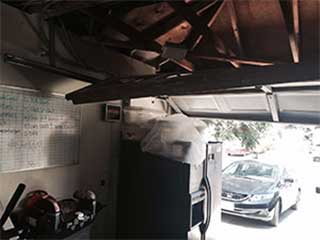 We all wish nothing we use goes bad or gets damaged so that we won't have to spend hard earned money on some darn gadget. We get it. Unfortunately, things go bad and we have to deal with it. It's also common for us, as humans, to put things off. We put off doing our laundry, starting that business, making those calls, or even fixing the garage door. You may put off doing everything else, including eating breakfast, but it's important to consider these points before putting off your garage door repairs:
Your Family's Safety
It's recorded that nearly one third of all forced entries happens through unlocked or improperly secured doors – including garage doors. When your door doesn't close the way it should, due to damage, it could pose a threat to your home as criminals could use it as an opportunity to enter your home. Nearly 25% of homeowners or other residents get injured or killed in their attempt to defy intruders. Don't put yourself and family in danger, fix your garage door!
Self-protection
As I said earlier, we tend to put off fixing things that have gone bad. We sometimes take it a step further and try to things in their damaged state. Yes, I know you try to use your door with a broken spring just to avoid spending money to replace it. That's a bad idea! It is very dangerous to use your door with only one functioning spring, if the other spring should snap while you are trying to use your door it could seriously hurt you. There are incidents where garage door springs have maimed people, or even worse. So, whenever you notice any damage with your door, call an expert immediately.
Safeguard your vehicle
Your garage door does two things: it goes up and comes down, that tends to give uninformed people the impression that it's lightweight. Wrong! The average door weighs in at about 400 pounds, which is enough mass to mangle your vehicle if it happens to fall on it.