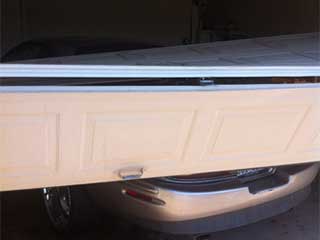 Automatic door systems can be very complex, and when one of their many different parts breakdown, trying to repair it can be a real hassle, not to mention, a genuine safety risk. Not to worry. Our experts are here to help.
Fixing Opener Issues
As essentially the "engine" of your garage door, the opener is arguably the most important part of the entire system. This electro-mechanical device can suffer from a wide range of different problems, all of which will require an expert's involvement. Whether if it's a matter of repairing a broken motor gear or replacing a part of the circuit board that got fried, you can always count on our technicians to get the job done quickly and efficiently.
Replacing Broken Springs
As the parts of the system that are in charge of supporting the door's weight, the springs can suffer from more wear and tear damage than any other component. They are under a lot of tension on a day to day basis, and will eventually snap if they aren't replaced in time. When you find yourself having to deal with a broken garage door spring, give our team a call. We'll take care of the problem without endangering anyone.
Dealing With Dented Tracks
The track is what guides the steady movement of your door. If it develops any dents or bents, the rollers could get stuck or slip off, which could result in the entire door collapsing. Trust our team to repair your tracks to perfection and restore the safe and smooth operation of your door.
Always Here For You
When facing any type of problem, there's no one better to call than our experts at Garage Door Repair Baytown. We'll make sure your system returns to its fully functional form in no time. Call us today.
But wait, there's more! We also offer:
Torsion Spring Adjustment
Track Replacement & Repair
Liftmaster & Genie Opener Services
Garage Door Remote Clickers