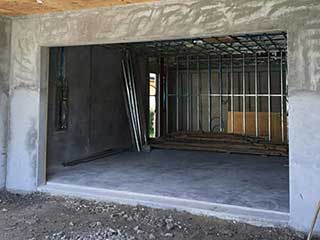 Our team has become quite known for the thorough maintenance services we offer. These scheduled appointments allow us to catch minor issues early on and keep them from developing into major, potentially dangerous, problems. Not only that, but it also reduces the wear and tear the system has to go through, which in turn allows it to last for a lot longer.
First Thing First
Before we do anything else, we'll perform a complete examination of your overhead door system and make sure that all of its hardware parts, like the cables, the horizontal and vertical tracks, and the panels, are in a good condition. Any damage we find we'll be addressed on the spot. If things prove too bad, we'll simply replace the part in question.
Minimizing Spring Related Problems
There will eventually come a time when your garage door springs will need to be replaced no matter how well you take care of them. However, by providing these crucial components with some well-deserved maintenance, you'll be able to extend their longevity and reduce a lot of the associated risks. Our technicians will lubricate their coils to make them more silent and efficient, and we'll also adjust their tension (if needed) in order to keep your door from getting unbalanced.
Let's Not Forget The Opener
Of course, one of the key aspects of our garage door maintenance appointments is servicing the opener. We will check to make sure its drive-system is working properly and doesn't need any treatment. Then we'll make sure the photoelectric sensors aren't misaligned and are able to properly detect obstacles when they get in the door's path.
Book An Appointment Today
Don't wait for something to go wrong. By acting in advance, you'll be able to prevent a lot of potentially dangerous problems. Give our team at Garage Door Repair Baytown a call to schedule an appointment today.
You can also count on us for:
Garage Door Safety Inspections
Genie & Liftmaster Opener Repairs
Emergency Broken Spring Replacement
Broken Garage Door Track Repair